Alongside the A4 is The Sanctuary, the site of major wooden buildings, possibly used for religious rites. From the National Trust car park walk to main road and turn right. After 50 yards, cross and go through gateway with blue bridleway arrow. Through another gate and follow path by river. Go through two more gates and two stiles, passing Silbury Hill. Beyond a gate, walk down right-hand field edge to a gate and A4.
Cross over and turn left, then almost immediately right through a gate.
[Pub.17JUC] 50 Walks in Kent PDF | by AA Publishing;
AA 50 Walks in Kent.
Abandoned Address: The Secret of Fricks Lock?
Nuclear Denial (Chance Lyon novels Book 2).
Walk down wide path and cross bridge over stream. Go through kissing gate and turn sharp left. To visit West Kennett Long Barrow, shortly turn right. Otherwise, go straight on around left-hand field edge to stile and continue along track. At staggered junction, keep ahead across stile and walk along right-hand field boundary. Cross stile on right in corner and proceed up narrow footpath. At T-junction, go left and descend to road.
Turn left, then just beyond bridge, take bridle path sharp right. Follow right-hand field edge to gap in corner and turn sharp left, following track uphill.
Additional Special Offers
At top you'll see tumuli burial mounds on the right and The Sanctuary on the left. Continue to A4. Cross the A4 and head up the Ridgeway. After yards, turn left off Ridgeway on to a byway. Bear half right by clump of trees on a tumulus and keep to established track, eventually reaching a T-junction by a series of farm buildings, part of Manor Farm.
Turn left, signposted 'Avebury', and follow metalled track through earthwork and straight over staggered crossroads by the Red Lion Inn. Continue along road to the wooden signpost and back to the car park. Paths: Generally firm paths, some muddy woodland tracks. Public Toilet: By car park in Culross. Visitors to the cobbled streets pictured in Culross in Fife, Scotland, can enjoy the immaculately preserved buildings.
Walking through Culross in Fife, with its cobbled streets and immaculately preserved buildings, is like stepping back in time.
The town owes its origins to coal mining, started in the 13th century, which led to a salt-panning industry. Trade brought prosperity, hence Culross's many substantial buildings, such as striking Culross Palace, built in The centre of the causeway — where the toffs walked — is higher than the edges where commoners had to walk in the gutters.
From car park, take steps up to tarmac path alongside railway, then turn right. Just beyond reed bed to right, turn right down steps and follow path to road.
Walking the Pilgrim's Way in Kent
Cross over to entrance to Blair Castle, a 19th-century mansion on the site of a 17th-century castle. Walk up tarmac drive until you see Blair Castle on left. Before reaching it, take right-hand turning in trees and follow it as it bears right. Continue till reaching Blair Mains farmhouse, on left.
New Products
Continue following track, with fields either side. Walk ahead until trees, and continue following track until you reach metal gate on left-hand side, just beyond line of pylons. You should spot a wooden fence post on right-hand side, with 'West Kirk' and 'Grave' painted in white. Take narrow right-hand path immediately before it. Follow this path through kissing gate and continue walking ahead, with trees left and fields right. Go through another kissing gate, continuing in same direction. At crossing of paths, continue ahead along track and walk under pylons.
You will pass remains of church on left. Continue ahead, past old cemetery, walking in same direction until track joins tarmac road. Walk in same direction until junction. Turn right and head downhill. You will reach Culross Abbey on left. Continue in same direction, down cobbled Back Causeway, to main road. To reach starting point, continue in same direction — car park is on left, past play area. Six kings, and Robert the Bruce, are buried at nearby Dunfermline Abbey. Paths: Good paths and tracks though some, being bridleways may be muddy. Dog -Friendliness: on lead by roads and in fields near livestock.
The walk includes a short stretch of an old Roman road, passing close to the village of Bardsey, on the track from Hetchell Wood. Adjacent to these woods — marked Pompocali on OS map — are Roman earthworks.
koformeolo.tk
Kent (AA 50 Walks Series) by AA Publishing: Paperback - WorldofBooks
After the Romans, Bardsey became part of the kingdom of Elmet. Above the Church of All Hallows, towards walk's end, is a grassy mound where a castle once stood. Begin from junction of Church Lane with A58 and head south along main road. After yards, take path off left beside gate into wood. It rises to overgrown embankment of former Leeds—Wetherby Railway. Go right and almost immediately left through gap, soon emerging into field.
Continue beside perimeter. Passing into second field keep with boundary as it swings right down to trees. Pass through kissing gate into Hetchell Wood Nature Reserve. Keep right where path later forks, soon passing beneath Hetchell Crags. Leave reserve through kissing gate at junction by footbridge spanning Bardsey Beck. Turn left along climbing track, once part of Roman road.
Look for bridleway signed off through gate, a short distance on right. Through gate, path leads away above stream, skirting Roman earthworks Pompocali on map.
Kent (AA 50 Walks Series)
Beyond overhanging rock, path rises to junction to left, you can wander back to investigate these intriguing mounds. Onward path keeps to right, joining track leading past ruinous mill buildings. Carry on beneath old railway bridge and across stream. Wind around two sides of paddock then swing left along drive from Moat Hall. Look for stile breaking right-hand wall, a few paces on the right.
Take field-edge path, with hedge to right from here back to Bardsey you are walking the Leeds Country Way. Towards far end of field, path turns right into copse. Cross beck on wooden footbridge and swing left through scrub above stream. Shortly, wind right to emerge into corner of field. Climb away beside right-hand hedge, dropping beyond crest of hill to junction. Go left here on track that follows broken wall to meet A Walk left for 20 yards.
Turn right into Wayside Mount, unsurfaced access road for several houses. Beyond last house go through gateway and follow track ahead, tall hedge on left. When track later swings left, leave and walk ahead, ignoring stile to follow field-edge downhill. Approaching bottom, bear right across field corner to path dropping into trees below. Cross stream and climb to gate into churchyard. Keep right of church to meet road. Go right on Church Lane to starting point.
50 Walks in Kent (AA 50 Walks Series)
50 Walks in Kent (AA 50 Walks Series)
50 Walks in Kent (AA 50 Walks Series)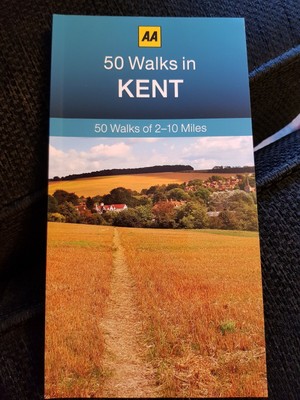 50 Walks in Kent (AA 50 Walks Series)
50 Walks in Kent (AA 50 Walks Series)
50 Walks in Kent (AA 50 Walks Series)
50 Walks in Kent (AA 50 Walks Series)
50 Walks in Kent (AA 50 Walks Series)
---
Copyright 2019 - All Right Reserved
---